Mother Nature can be unpredictable in the fall so dress in layers. Whether you're going apple picking or beer tasting, stand-out from the crowd in a pair of colored, skinny jeans or cords and boots. Pair that with a long-sleeved tee or sweater (depending on the weather) and a fabulous faux fur vest. Add a cross-body satchel and don't forget your wayfarers for a day outdoors!
Wayfarer Sunglasses | Faux Fur Vest | Jeans | Sweater | Bag | Riding Boots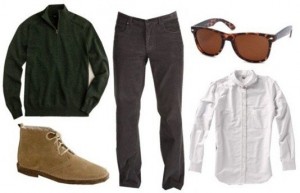 Pull Over | Boots | Cord Pant | Wayfarer Sunglasses | Button Down
Men, stay comfy and warm in casual corduroy pants, a casual button-down shirt and half-zip sweater. Keep your feet toasty in a pair of chukkas or casual boots, and protect your eyes from the fall sunshine with a pair of retro wayfarers. And gentlemen, take advantage of the cold: If your date is looking a little chilly, put your arm around her and warm her up for a bit, they'll appreciate the gesture.