Welcome to Cupid's Pulse: Celebrity News, Opinion, Exclusive Interviews & More!
Launched in November 2010, CupidsPulse.com is a one-of-a-kind relationship site that analyzes trending celebrity news to provide relatable love advice for singles and couples. From advanced clips of BravoTV's Millionaire Matchmaker to exclusives with ABC's Bachelor and Bachelorette contestants, CupidsPulse.com brings you the information you'll fall head over heels for from insiders who have their fingers on the pulse of love in today's Hollywood-influenced dating world.
Lori Bizzoco - Founder/Executive Editor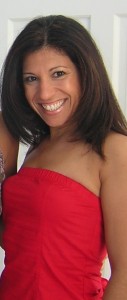 As a former PR executive, Lori Bizzoco is no newcomer to the industry. She spent 15 years launching some of the world's largest brands and creating celebrity endorsed initiatives for her clients. But, finding herself still single at 38, Lori decided to develop her own process for finding love. When it worked (her husband only knew her for nine weeks when he proposed), she knew that helping others navigate the dating world was the path she was destined to take. Lori is a sought after relationship and entertainment expert. She's been featured in media outlets such as Forbes, The Wall Street Journal, Shape, Redbook, Parenting, Woman's Day, Working Mother and on Fox News, AOL,  Oxygen, WebMD, and The Suze Orman Show.  Most recently she was featured in the book,  No Excuses: 9 Ways Women Can Change How We Think about Power by feminist icon Gloria Feldt and Cheat on Your Husband (With Your Husband), by Andrea Syrtash.
Using her knowledge of the entertainment industry and PR background, Lori launched CupidsPulse.com with the mission of bringing real-world perspective to the overly fantasized celebrity relationship stories saturating the news.
Whitney Johnson – Senior Editor
In 2011, Whitney Johnson (then Baker) began working as a freelance contributor for CupidsPulse.com, where she was quickly promoted to the position of Senior Editor and Social Media Manager. During her two years with the company, she has interviewed E! News co-host, Giuliana Rancic; The Biggest Loser host, Alison Sweeney; Food Network chef, Mario Batali; and The View co-host, Sherri Shepherd — just to name a few! Whitney graduated from Vanderbilt University in 2008 with a degree in Communication Studies. She then worked for two years as a client executive for Burson-Marsteller Public Relations in both the New York City and Chicago offices. There, she honed her writing and interview skills, quickly realizing that the journalistic side of PR was her favorite part of the job. In 2010, she relocated to Nashville and began pursuing a career in writing. CupidsPulse.com continues to be the perfect fit for her, combining her love for writing, passion for romance and her obsession with celebrities.
Whitney currently resides in Colorado with her loving and supportive husband, Ross, and their energetic and playful Lab, Finn.
Jessica DeRubbo – Senior Editor
Jessica DeRubbo began working as a freelance contributor for CupidsPulse.com in August 2010. Within weeks, she had climbed the ranks to Assistant Editor and eventually took on a Senior Editor role. During her three years with the company, she has worked with many great writers and editors. She coordinates the movie reviews, guest contributions, and celebrity trend posts that help to make CupidsPulse.com stand out from other celebrity/relationship publications. Jessica graduated from Syracuse University in 2007 with a Masters degree in Journalism and has since kept up her passion for writing via both professional and personal endeavors.  CupidsPulse.com continues to be an outlet for the journalistic passion and direction Jessica has always enjoyed.
Kaitlin Wilson – Advertising and Social Media Associate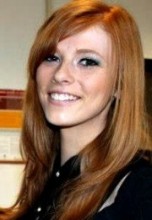 It's easy to settle for sameness—to do a no-brainer without expending a lot of effort. But Kaitlin Wilson preferred to pursue a different path that opened her up to new ideas and creativity. Her future degree in Communications and Media Studies at Adelphi University proves that. While she could have chosen a safer and less demanding intern route, she came on to the CupidsPulse.com team as a social media intern for the summer, and throughout her experience, she learned about the world of advertising. Kaitlin's position transformed in those short three months, and she is now working directly with Lori as Advertising Support. Thanks to CupidsPulse.com, she was able to hone her communication skills, broaden her horizons, and expand her knowledge and creativity.
Sarah Batcheller – Writer/Author Coordinator
Sarah Batcheller began working as an Editorial Intern in June 2014 and serves as the manager of our author interview page. Among other editorial tasks, Sarah coordinates interviews with authors, develops background and questions, conducts the interviews, trains other interns for this work, and develop the posts. Sarah graduated with a B.A. in English from George Mason University and hopes to further her education in the near future. As an aspiring writer of fiction, Sarah greatly enjoys speaking with various authors and learning to perfect each piece of writing she creates. Every day at Cupid's Pulse is a new adventure for Sarah, and she looks forward to everything in store for her!
Shannon Seibert – Writer/Partnership Coordinator
Shannon Seibert began working as an Editorial Intern in March 2014. She is a journalism and communications major at the University of Florida, focusing on editing and publishing. Shannon also contributes to Gainesville's Alligator, serves on the board of her sorority's Social Media Committee, and volunteers at local elementary schools in the fight against illiteracy. Shannon graduated high school with her Associate's degree in Arts and is expected to graduate in 2015 with her Bachelor's degree, two years ahead of schedule. She aspires to be a writer, an editor, and a publisher in a field in which people appreciate reading and cultivating knowledge.
Amanda Boyer – Writer/Author
Amanda Boyer is a junior at Seton Hall University, majoring in Public Relations and Journalism and graduating in December 2015. During her time at Seton Hall, she has shown drive and commitment through her various activities. As a sophomore, she earned the position of Photography Editor for the official school newspaper, The Setonian. Through this opportunity, Amanda was able to photograph division one athletic events and had an opportunity to photograph Hunter Hayes's concert last May in South Orange, New Jersey. After doing sales communication at pharmaceutical company Novo Nordisk, she is excited and eager to show her passion for writing and public relations by interning for CupidsPulse.com this fall.
Katie Gray – Writer/Author
Katie Gray is a driven Marymount Manhattan College student double majoring in Communications and Business with a concentration in Entrepreneurship and double minoring in Journalism and Fashion Studies. Her passion for her studies have earned her a place on the Dean's List, and she will graduate in May 2016. She joined the CupidsPulse.com team in September 2014 and enjoys writing celebrity trends, feature pieces, and interview questions for the site. Katie is also currently a writer for the Home Reporter and Brooklyn Spectator newspapers, the national collegiate website Her Campus, and her school paper The Monitor. Her past experience has included working at fashion magazine Marie Claire, nonprofit health organization Energy Up & Sugar Savvy, and Bloomingdale's and New York & Company flagship locations. She was also a volunteer at Mercedes-Benz New York Fashion Week with the CFDA. In her free time, she takes acting classes at HB Studio and singing lessons with a personal voice coach. An avid reader and writer, Katie is always up-to-date on fashion trends, celebrity gossip, the stock market, and current news. She looks forward to the future and believes everything she is learning from CupidsPulse.com will help her to have a successful career!
Maggie Manfredi - Writer/Author
Maggie Manfredi graduated from George Mason University with a B.A. in interpersonal and organizational communication. With a double minor in electronic journalism and psychology, CupidsPulse.com is the perfect fit for Maggie to write about all things celebrity news and relationships. Since graduation, she has dabbled in everything from blogging to sales to public relations and hopes to continue to try new things.  She loves having experiences that fuel her passions to read, write, and help others — and her internship with CupidsPulse.com is one of them!
Emily Meyer – Writer/Author
Emily Meyer is a junior at James Madison University, majoring in Communications with a minor in Human Resource Development. She is focusing on Interpersonal Communication but is open to learning about all of the different fields of communication, especially PR. Emily started working as an Editorial Intern in October 2014. She has already learned a lot during her time at CupidsPulse.com and cannot wait to learn more! With her love for all things celebrity, she is hopeful to make her way into the field of entertainment after she graduates with her B.A. in 2016.
Ashley Pacifico – Celebrity Interviewer/Writer
After graduating from Monmouth University with a B.A. in Communications in 2014, Ashley couldn't be more excited to be working on her passion of all things celebrity with CupidsPulse.com! After executive producing her own morning show in college, based on entertainment news, current events, and live interviews, she knew that she had chosen the right career path. As a past intern at MTV News and Documentaries, she has gained a tremendous amount of knowledge that is going to be best utilized through her work on and off the red carpet. With big interview experiences behind her, including Nicky Hilton and Christina Milian, there is nothing stopping this celebrity news junkie from going for the gold. Watch out, Giuliana Rancic!
Christina DeRosa – Public Relations
Christina DeRosa began working as a Public Relations Intern in August 2014. She is a Communications major and Human Resources and Spanish minor at James Madison University. She is focusing on PR through her studies but is also open to learning new areas of the communications field. As a junior, Christina is eager to step into the real world and put her classroom knowledge to the test! She has already learned so much and is hopeful that her experience here will lead her to a successful career after she graduates with her B.A. in 2016.
Stephanie Salsini – Public Relations
Stephanie Salsini is a junior at James Madison University, majoring in communications with a minor in criminal justice. She is concentrating on PR with her communication studies but is also interested in conflict and intervention analysis. She started working as a Public Relations Intern in August 2014 and has already learned a lot during her time with CupidsPulse.com and hopes to continue learning more. She will graduate in May 2016 with a B.A.
Katelyn Di Salvo – Social Media
A senior at Marymount Manhattan College, Katelyn Di Salvo is majoring in Communications and minoring in Journalism. She has had experience in the editorial field with internships at newspapers and is currently writing for a blog called Hercampus. She has also vulenteered at the YMCA Beacon Center's after school program, helping kids with their reading and writing skills. Katelyn began working as a Social Media intern at CupidsPulse.com in October 2014. With everyone turning to social media to get their news, she's excited to take such a powerful tool in society and put it to good use. Graduating in May 2015, she hopes that this experience will teach her a lot and lead her to a successful career.
Thanks!
For information on advertising with us, please visit our Advertising Page. Interested in writing for us?  Send us your pitch here.
Our aim is to help people maintain enduring and healthy relationships despite the growing noise level of divorce, cheating and affairs that saturate our daily news.  Let CupidsPulse.com navigate your way to a happy love life.