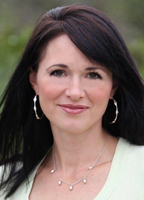 Amy Osmond Cook, Ph.D. is a relationship expert focusing on communication. She teaches communication, negotiation, and writing courses at Arizona State University and is the author or coauthor of several books, such as Hope After Divorce (2011), Full Bloom: Cultivating Success (2011), and Why They Believe (2011). Amy's research interests typically focus on understanding and improving romantic and familial relationships.  In addition to her academic background, Amy also has extensive media experience. She began performing with the Osmond Family in early childhood and has continued to sing and play the violin throughout her adult life. In 1994, she became America's Junior Miss and toured the country as a performer and motivational speaker. She has been featured in print publications such as People Magazine and USA Today and on television programs such as Good Morning America. Last year, she hosted the 2011 National Distinguished Young Women scholarship program, helping to give away more than $100 million in scholarship opportunities to deserving young women.  Amy continues to refresh her relationships as a wife and mother of five beautiful children, who always give her plenty of material to discuss!
Articles: 
How Can Jennifer Aniston Make Her Love Last?
What 'The Bachelor's' Sean Lowe Needs to Do to Find Love
Love Lessons from Holiday Movies
Love Lessons Learned From Marilyn Monroe
How to Make Sure Your Divorce Is Amicable, Fair and Fast
5 Ways Facebook Can Help Mark Zuckerberg Keep His Marriage Strong
10 Avengers-Sparked Questions to Bring You Closer
Relationship Advice from the "Hunger Games"
7 Ways to Build a Love That Lasts
Katy Perry and Russel Brand: What Went Wrong?
What Your Gifts Say About Your Relationship
How to Communicate with Your Ex Over the Holidays
Demi Moore Proves There's Hope After Divorce 
Can Celebrities Actually Have Enduring, Healthy Relationships?